So I'm sure there are tons of questions that get asked everyday about home labs, what do I need to study and lab VMware products at home without having to take a second mortgage out AND have it be reliable for labing purposes.
There are multiple options for different sets of budgets. Depending what you're trying to do (lab for the VCP exam or just play around for your own knowledge) a nested virtual environment usually will yield the wallet some savings as well as the carbon footprint and costs for electricity, real estate, cooling etc…
For my home lab I've elected to go the nested route for the most part.
Home Lab Hardware
Custom built desktop PC (Doesn't have to be custom)

Intel i7-4790 Processor
32GB RAM
1 – Samsung EVO 500 SSD (256 GB)
3 – Samsung EVO 850 SSD (500 GB)
1 – WD HDD (1 TB)
All together this costs me around $1,600.00. I used PC Part Picker online and then shopped local and online deals and actually found some outstanding deals to help reduce my costs.
At the time of writing this, I've introduced an old PowerEdge 2950 Gen III that I was able to Frankenstein back together. I use it mainly for other VMware Appliances such as vSphere Data Protection, Replication and vRealize Operations Manager.
Update: 8/3/2016
The PowerEdge 2950 finally had it's day. I was having issues deploying OVF templates directly to the host with 5.5 and 6.0. Not to mention the cost to run the server and the noise it produced.
After doing some research and finding excellent blog posts from William Lam and Florian I decided to purchase an Intel NUC Skylake. Since that purchase things are flying with no issues. Highly recommend using NUC's in the home lab. They're quite, powerful and dependable.
Shopping List:
Intel NUC Kit NUC6i7KYK
Crucial 32GB Kit (16GBx2) DDR4 2133 MT/s (PC4-17000) SODIMM
Samsung 950 PRO Series – 512GB PCIe NVMe – M.2 Internal SSD
I had no problems installing ESXi 6.0 U2 on the NUC. The only issue I ran into was that I had to disable the Thunderbolt Controller in the BIOS. This is described in the links posed below.
Reference Blogs: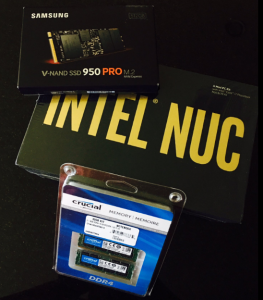 Lab Software
Microsoft Server 2012 R2
VMware Workstation 12