Recommended book list as I go through my VMware certifications. In no particular order.
Mastering vSphere 6 – Nick Marshall
This book is a comprehensive guide of tutorials, how-to's, informational guides and references on truly how to Master vSphere 6.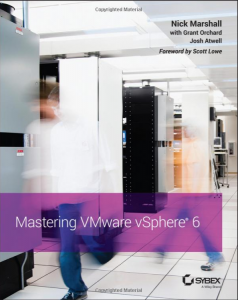 VCDX Boot Camp: Preparing for the VCDX Panel Defense – John Arrasjid VCDX-001, Ben Li VCDX-045, Mostafa Khalil VCDX-002
This book gives a great overview of the VCDX Panel Defense with do's and don'ts for the defense. Additionally several design scenarios are played out.
Comment: Even though this book a still geared for a couple certifications above me, I still believe it's important to know what's on the horizon before I arrive.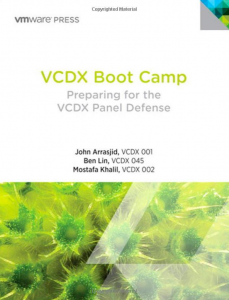 IT Architect: Foundation in the Art of Infrastructure Design: A Practical Guide for IT Architects – John Yani Arrasjid VCDX-001, Mark Gabryjelski VCDX-023, Chris Mccain VCDX-079
This book helps aspiring & experienced It infrastructure architects/administrators, and those pursuing infrastructure design certifications, establish a solid foundation in the art of infrastructure design.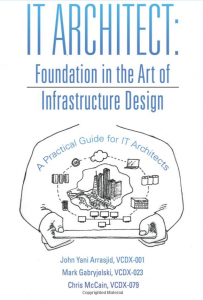 VMware vSphere 6.5 Host Resources Deep Dive – Frank Denneman & Niels Hagoort
Deep dive into the CPU, Memory, Storage and Network architecture of the hypervizer. Frank & Niels get down into the 1's and 0's explaining exactly how the hardware resources interact with the software to deliver a world class product like vSphere and ESXi.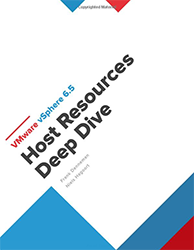 The Phoenix Project – A Novel About DevOps and Helping Your Business Win.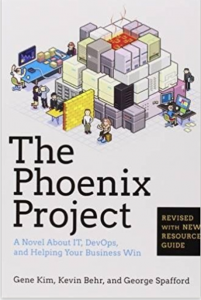 IT Architect Series: The Journey. A Guide Book for Anyone Interested in IT Architecture – (Melissa Palmer VCDX-236)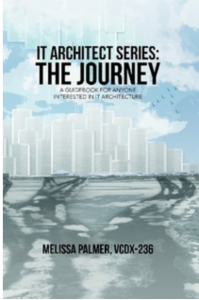 Mastering Technical Sales 'The Sales Engineers Handbook' – John Care