Pairing Site 1 & Site 2 using vSphere Replication
— Previous Posts in Series —
Prerequisites & Information:
Site 1 : vSphere Replication
Deploying & Installing vSphere Replication – Site 1
Configuring vSphere Replication – Site 1
Installing Site Recovery Manager – Site 1
---
In our last post we finished up site 1 by installing Site Recovery Manager and verifying that we could see it in Site 1's vCenter Server. In this post we fast-forward to the point of having vSphere Replication deployed and configured in each site. Both Site 1 and Site 2.
Our next steps are to pair these sites together.
Step 1: Log into Site 1 and navigate to Menu > Site Recovery > Open Site Recovery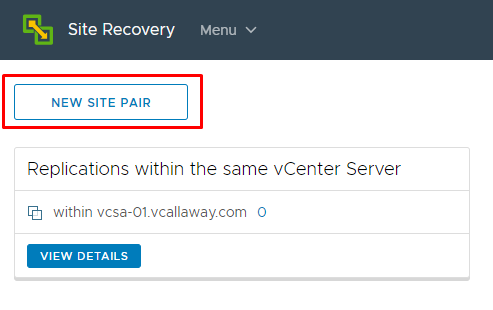 Once you click on 'New Site Pair', select your first site, and then enter in the PSC address for the second site, username and password for the SSO domain (administrator), accept the certificate and select that PSC/vCenter in the list, once complete you should see a screen similar to the one below: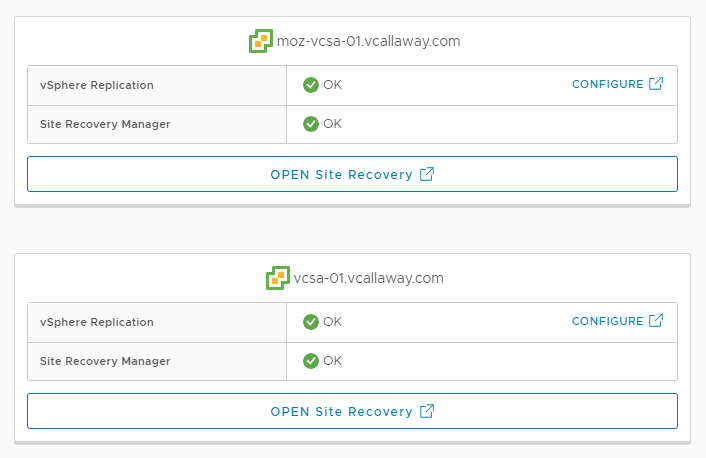 Next we will get into configuring vSphere Replication, setting up replications/recovery plans and then test our plans. And lastly we will move over to NSX.
Stay tuned!